Glitter fluffies black
$

29.99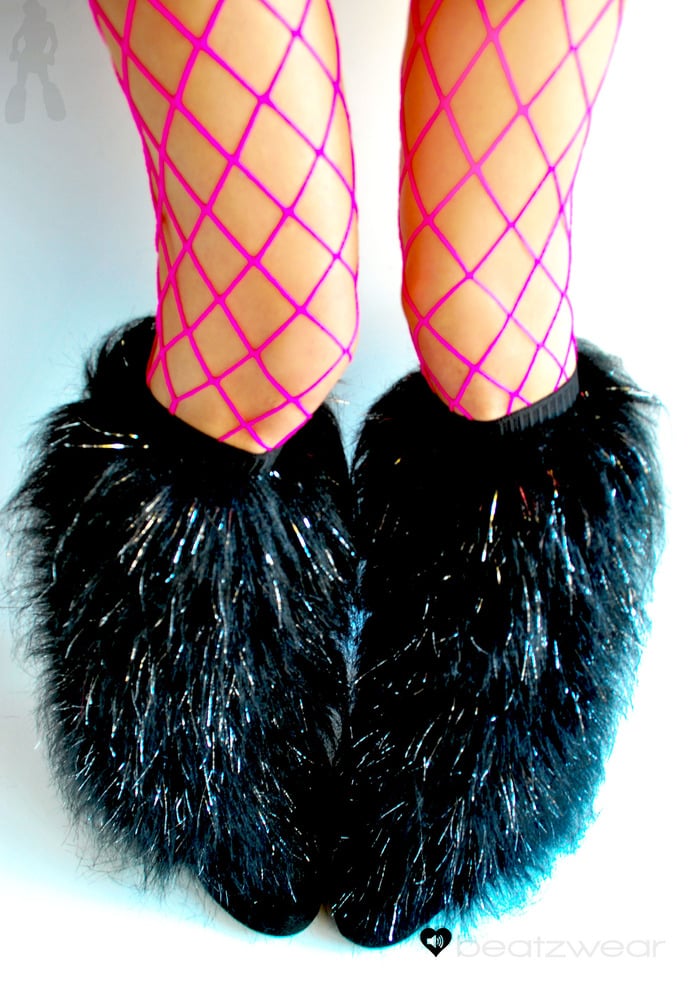 Glitter fluffies in black. (Extra long black fur with silver tinsel.)
Fluffies are available in the following styles:
-Standard fit: Slim flare.
-Short gogo: Extra wide flare. (Most popular.)
-Tall gogo: Bootcovers. Designed to cover stacks/gogo boots.
-Thigh high: here.
*Pictured: Short gogo style
★See style descriptions & photos here.
Fluffies are available in standard band sizes:
*Elastic will fit 1-2" below & at least 2-3" above the listed measurement. We suggest ordering the size you would normally wear in clothes.
-xsmall: 11in.
-small: 12-13in.
-medium: 14in. (*med =one size fits most)
-large: 15-16in.
-xlarge: 17in.
Top band is comfortable thick elastic that will stay in place all night long- your choice of black or white. Band can be worn up or tucked in.
*Machine safe. Wash inside out on cold gentle cycle. Hang to dry.
Everything is made to order! If you feel that you need a specific height or band size please don't hesitate to contact us. We are happy to customize any order. If you are 5'4" or below please let us know so your fluffies can be made shorter.
♡ PLEASE KEEP IN MIND THAT EVERYTHING FROM BEATZWEAR IS HAND CRAFTED AND MADE TO ORDER. YOUR PATIENCE WHEN BUYING HANDMADE IS APPRECIATED! ♡ Creation time is typically 2-3 weeks not including shipping.
★Our FAQ page (click here) will always clearly state our current lead time.

Shipping:
United States: $8 for one pair $5 each additional
Canada: $12 for one pair $9 each additional
Shipping includes tracking and delivery confirmation.
*Please contact us for shipping quotes for other International destinations.

Rush orders:
While we do not offer rush orders, we do offer a Priority shipping upgrade. This will not move your order ahead, but will allow your order to arrive faster via Priority shipping. Purchase the upgrade here.

QUESTIONS?
Email us at beatzwear@beatzwear.com
Share